In Camera
Fotografinshus, Stockholm 2009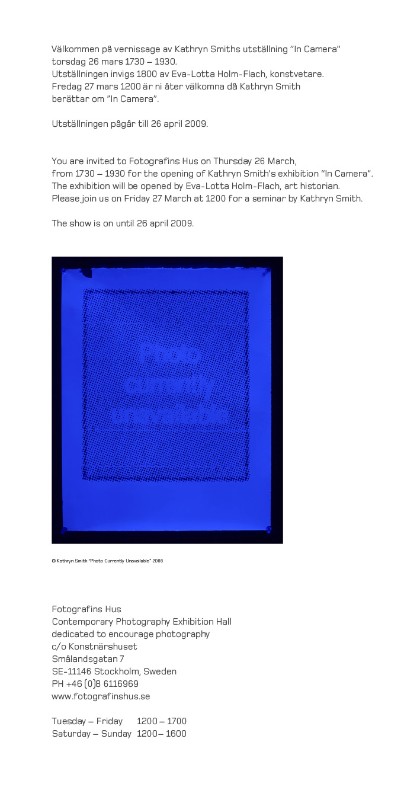 PHOTOGRAPHY AS WITNESS OF TRUTH: Convincing work by Kathryn Smith
Peder Alton | Dagens Nyheter, Stockholm, 2 April, 2009

"Photography's role as a witness of truth and carrier of news never ceases to fascinate us. No crime is committed, no acts of violence, without photography participating in some way. In South African photographer Kathryn Smith's exhibition at Fotografins Hus, all of this comes back with new intensity, this time in the form of dark screen patterns that bring out the worst acts of violence in the South African society.

Smith is a free artist as much as she is a forensic expert. She gets her pictures from the Net and they contain the whole spectrum of photographic peculiarities, the blackness, the graphic language, the dusk, the blur. And not least, the act of violence as the most challenging form of entertainment in modern mass media.

She deliberately makes use of different qualities of light in the rooms. In full light, the pictures are mere white surfaces, but when she lets the darkness take over, weak blue projections of various depths and layers appear, as unpleasant recollections or inward, mental, phenomena: a pistol, the blurry face of a child, the outline of a man.

Sensational photography? After a while I see something else. The victims simply begin to take over. One room is dominated by portraits of lost children. It is an incredibly strong element that reinforces the everyday, somewhat anonymous, character of the pictures. Kathryn Smith never gets into any euphemistic photographic descriptions."