the lowercase

the lowercase
was initiated as a satellite project for 'A Proposal for Articulating Works and Places', the 3rd AiM Biennale in Marrakech (November 19, 2009 - January 10, 2010), curated by Abdellah Karroum. An earlier work that operates on similar principles (
Psychogeographies: The Washing Away of Wrongs
, 2003) acted as a visual 'co-ordinate' in Marrakech.
In response to a discussion with Karroum, where he described his interests with 'Articulating Works and Places' as operating "between 'desire and fear', fascination by the imaginary of a place and its reality", the initial research and identification of resources began prior to the opening of the biennale and the project will continue throughout 2010.

Selected works from the biennale, including Psychogeographies: The Washing Away of Wrongs (2003) are currently on view as part of Others: Marrakech Istanbul, Athens at Riso Museo d'Arte Contemporanea delle Sicilia in Palermo (July - November 2010)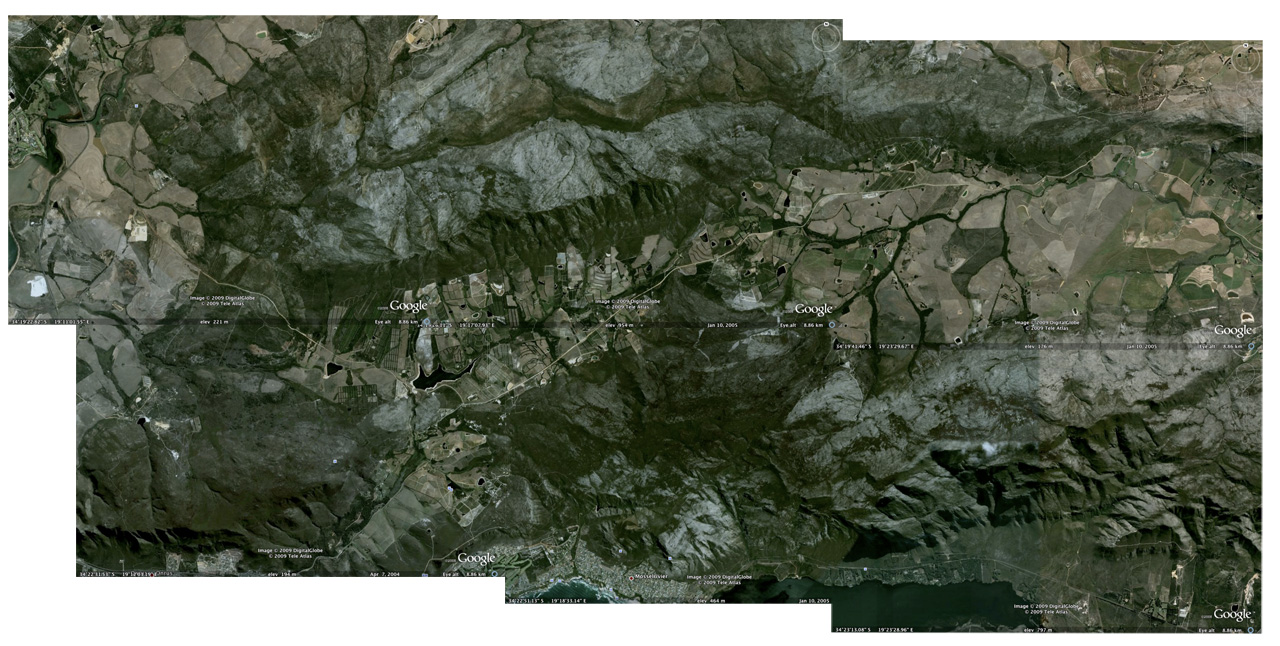 site sketch (i have no idea where I'm looking), digital montage, 15.11.2009
An insistent concern in my recent work focuses on places or locations that have been the sites of very specific, psychologically-motivated acts of violence and trauma. They are usually domestic spaces or suburban neighbourhoods that have been recast, particularly through media attention, by having played host to individuals who have perpetrated acts of violence, often for some years before the secret is uncovered or an arrest brings an end to their cruel private desires, acted out on the bodies of others.
My current concerns are insistently spatial in nature, looking specifically at various 'architectures of trauma', both above and below the ground. These include spaces created by individuals to hold others captive, often for prolonged abuse and eventual death, or ad-hoc excavations for illicit burial in domestic spaces. These have become frequent stories in the media, each repeating similar patterns and details. I am curious as to what the recurrence of these narratives in the contemporary moment might point.
Since 2007, I have been researching the case of Johannes Mouwers, a serial rapist arrested in 2006 for holding two girls, Nesia Mouwers and Rensie Schroeder, aged 4 and 14 respectively, in a burrow excavated from the bank of a river in the idyllic Hemel-en-Aarde (trans. 'Heaven and/on Earth') valley in the south-western Cape. The girls were held captive for 18 months. Mouwers abducted the two girls while on the run after an escape from an awaiting-trial cell, where he was being held for another crime. He was on the run for a total of 39 months, during which time he committed a series of other crimes in addition to the abduction. Mouwers claimed the younger girl was his biological daughter. It is perversely coincidental that the 14 year-old girl had been abducted from a nearby farm called Diepgat (trans.'deep hole').
Specific details of this case have been reported differently in a range of media. Some of these variances are banal. Others may fundamentally change our understanding of these events and what motivated them. The spelling of both Mouwers' first and surnames vary from report to report. He allegedly gained the confidence of the girls by informing them he was a soldier called Colin, on a secret mission to save the world and the burrow, furnished with basic albeit meagre amenities, was a safe haven. He used to cover his face with clay in an attempt to become invisible. He was known in the valley as Die Skim (trans. 'the phantom'). And so on.
Mouwers was tracked by Director Jeremy Vearey, an ex-ANC underground operative and now station commander of the Mitchell's Plain police station.
At the time of her rescue, Rensie would not speak of her experiences in anything louder than a whisper.

Kathryn Smith | Cape Town 2009


Images by Steve Eggington and Piet Smith. Sourced from www.webpix.co.za
Kathryn Smith's 'architectures of trauma': the black hole within the visible
Much of the recent mixed-media work produced by South African artist, Kathryn Smith, evinces her aesthetic-forensic fascination with specific perpetrators of psychologically motivated acts of violence and resulting traumas, the places these people once inhabited and the traces they left behind. What interests her is not just the extremity of such behaviour but also the circumstances of invisibility that allowed these situations to occur undetected, often for years at a time. Here 'invisibility' denotes not only the 'unseen' but also the 'unseen within the seen', the blind spot or black hole which is both invisible and in-the-visible.
The ability to camouflage — hiding in plain sight — is characteristic of numerous convicted serial murders and rapists, who are notorious for having lead outwardly 'normal' lives despite their clandestine activities. But invisibility also pertains to the particular locations or 'architectures of trauma', in Smith's words, where violent crimes of this nature have occurred. Usually these are unremarkable domestic spaces in benign suburban neighbourhoods; 'normal' until their terrible secrets were revealed.
Invisibility, layers of visibility, the threat of impaired visibility, and the interrogation of the visual, are all aspects of Smith's work and working process. It is not surprising then that the camera is her preferred representational device, given its long-standing designation as a means of irrefutable 'bearing witness'. According to Joan Schwartz, photography was regarded from its inception as 'a tool of observation, an aid to documentation, and a form of data gathering': it shared with science 'common agendas to see and, thereby, know the world'.
In Smith's hands, however, the photograph is also a dubious and incomplete record, soliciting doubt and distrust. In her installation project In Camera (2007 – ongoing) Smith used ultraviolet-sensitive inks to create drawings, and mark her photographs of sites where violent crimes had occurred, and rewired the gallery lighting to switch intermittently between ambient and ultraviolet light, and complete darkness. Invisible under ambient light, these 'secret' drawings suggest the unseen or unknown within the ostensibly stable and irrefutable photographic record, revealed in black light as an ominous subtext.
The slippage between the outwardly visible and the hidden subtext is prevalent in other ways in a number of Smith's works. In Psychogeographies: The Washing Away of Wrongs (2003-4), Smith's handwritten, pencil notations provide the destabilising subtext to a series of seemingly unremarkable photographs. The work records Smith's 'pilgrimage' to the former homes of British serial killer Dennis Nilsen, in the London suburbs of Muswell Hill and Cricklewood. Nilsen was convicted in 1983 on six counts of murder and sentenced to life imprisonment.
Taken out of context, the photographs of Nilsen's former homes depict banal façades, disclosing nothing of the traumatic events that unfolded there two decades prior to Smith's visit. In her notes, Smith comments on the ease with which the flat in Cranley Gardens blends into 'cutesy suburban life' (it even has a purple door), and she voices some disappointment that this home, once the site of three murders and dubbed the 'House of Horrors' by the tabloids, 'suffers from an overall sameness – the camouflage of politeness and decorum'.
Ironically, it is this 'overall sameness' that provided cover for Nilsen's crimes in the first place, in much the same way that the semblance of unremarkable day-to-day existence he presented outwardly to his colleagues acted as a counterfoil to his 'secret amoral world', as Brian Masters has noted. With this in mind, the rhyme that Smith recounts for Nilsen (as 'the self-proclaimed monochrome man') is indicative: 'As I was going up the stairs, I met a man who wasn't there. He wasn't there again today. I wish, I wish he'd go away'.
For Smith, Nilsen is both ever-present and never there: his ability to disappear within the visible is typical, and links him to a host of like-minded perpetrators. Closer to home, Smith's the lowercase (2009) focuses on South African serial rapist, Johannes Mouwers, arrested in 2006 for holding two girls hostage for several months in a burrow excavated from a river bank in the south-western Cape. Not unlike Nilsen, Mouwers is a pervasive but spectral figure: he was known in the region as 'Die Skim' (translated as 'the phantom') and used to cover his face with clay in an attempt to become invisible.
Although the rural burrow wherein Mouwers hid his victims differs from Nilsen's suburban, residential killing rooms, these various 'architectures of trauma' may all be regarded as subterranean spaces: excavations beneath or behind the public surface of 'normal' life. As such, they become, in Smith's words, 'spatial materialisations of mental or emotional space; secret chambers created in which to perform and enact dark and often deadly desires'.
Smith suggests that the 'secrecy and invisibility of these spaces is something of a black hole, which is in fact a metaphor used to describe such sites in forensic geographical profiling'. The metaphor of a 'black hole' extends to our understanding of the perpetrators themselves, whose secret perversions occupy an unthinkable space in the collective psyche. But is may also describe the abyss within representation, where one comes up against what Joan Gibbons refers to as 'the inherent unspeakability of trauma and the impossibility of properly representing the experience of pain'.
In the face of excessive cruelty, the possibilities of 'adequate' representation seem limited and insufficient. In this regard, it is perhaps fitting that Smith's photographs so often 'fail' in their objective to bear visual witness. Blurriness, a lack of focus, photographic 'accidents', hidden subtexts, and visual disturbances that play across the surface, all work to unsettle the forensic certainty of the photograph-as-record. These layers and interferences hint instead at the black hole within the frame, that which remains unseen and invisible.
Smith's photographs thus evoke the suggestion of trauma not overtly witnessed by the camera. They emulate the viewpoint of the uncomprehending passer-by, who might have seen the bonfires in Nilsen's garden but not the human remains being burnt. They emulate the limited and compromised viewpoint of the victims, unable to look out beyond the confines of their captivity. But they also mirror Smith's viewpoint as researcher and investigator, looking up at the façades of Nilsen's suburban homes and sensing – yet failing to 'see' – the trauma that lingers behind the veneer.
Given these various blind-spots and black holes, Smith's works underscore the impossibility of seeing, knowing and representing the full extent of serial rape and murder. She delves into the literal and metaphorical layout of the 'architectures of trauma' that she investigates, armed with forensic/photographic methods of making visible and making known, and yet her vision – and ours – is persistently thwarted by the unthinkable. Appropriately, then, her work can only provide sporadic, chilling glimpses into spaces that are devoid of light.
Maureen de Jager
October 2009
For 3rd AiM Biennale catalogue

References
Gibbons, J. 2007. Contemporary Art and Memory. London: I.B. Taurus and Co.
Masters, B. 1995. Killing for company: The case of Dennis Nilsen. London: Arrow
Richards, C. 2004. 'Dead certainties: The art of Kathryn Smith' in Smith, K. Euphemism. Johannesburg: Goodman Gallery/Standard Bank National Arts Festival
Schwartz, J.M. 2000. 'Records of simple truth and precision': photography, archives and the illusion of control. Archivaria 50 (Fall 2000):1-40.
Seltzer, M. 1998. Serial killers: Death and life in America's wound culture. New York: Routledge.