Sunday November 14, 16h30 for 18h00
inasmuch (Niklas Zimmer, Brendon Bussy and Garth Erasmus)

This is a mini-concert experiment in sound, art and audience.

Mbira attacks, drums counter and mandolin returns provide an unexpected and wholly spontaneous encounter between three seasoned improvisors using drums, saxophone, mandolin, African instruments and surprise.
Not to be missed!
R30 at the door
Cash bar, safe parking in William St (behind the building)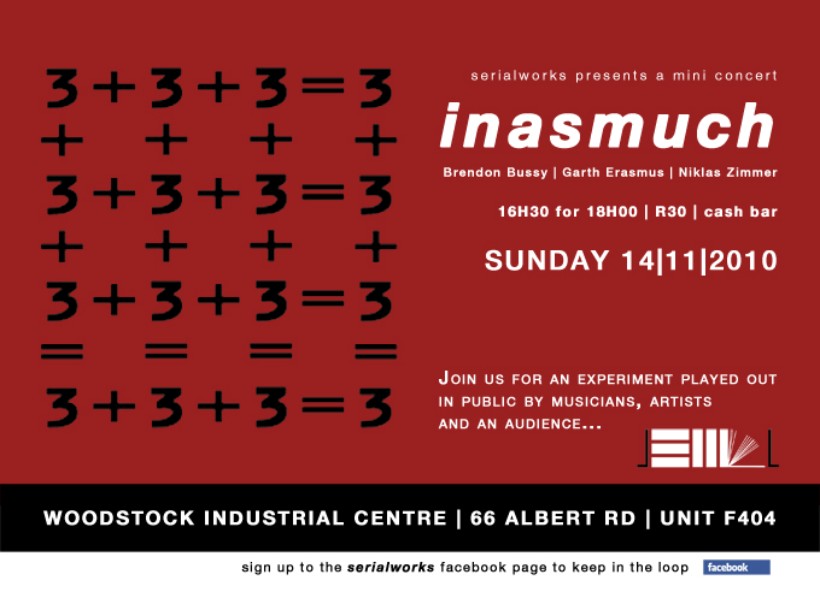 Brendon Bussy (mandolin and electronics) is a composer, electro acoustic performer and artist. He promotes unconventional approaches to sound making through the New Old Old New project. In 2003, he released Diesel Geiger (Open Records). www.brendonbussy.co.za



Garth Erasmus (saxophone/handmade strings) is a painter, instrument maker and musician. Since 1999 he has performed most often with Khoi Khonnexion, and frequently collaborates with the poet Malika Ndlovu as well as the dancer/choreographer Jacki Job and the free jazz outfit Riempie Vasmaak.





Niklas Zimmer (drums) is a German-South African artist and musician working in photography, sound and performance. As a progressive percussionist, he has collaborated with James Webb and Brydon Bolton. He is founder of the Upland07 music label. www.upland07.com